Cabo de Gata-Níjar Natural Park is one of the most impressive areas in Europe. It is an enclave of spectacular and unique biodiversity where life goes at a different pace. Genoveses 58 is located in the peaceful village of San José, a place of peace and relaxation almost all year round, which is full of life in the warmest months.
Luxury houses in the middle of nature
The houses we have created in Genoveses 58 are designed to integrate with the environment and exploit to the maximum the natural characteristics of a privileged environment. Luminous, open, spacious and built with top quality materials. So that you can live in union with the fantastic environment that is Cabo de Gata.
If Cabo de Gata is known for being one of the most special places on the Mediterranean coast, the capital is San José. A traditional town, with all the peace and rest that anyone could wish for throughout the year and full of liveliness when the summer months arrive.
Let yourself be seduced by its dreamy beaches, the crystal clear waters and one of the best climates in Europe. In addition, the coast of eastern Almeria has some virgin coves that are the envy of half the world.
At Genoveses 58 we want you to enjoy the outdoors. For this reason, we have provided your house with common areas that are ideal for making the most of Almeria's climate. Gardens with tropical plants, an enchanting swimming pool and a solarium where you can see the time passing at the speed you want.
All conceived with the ultimate aim of squeezing every ray of sunshine, every aroma, every sensation offered by the Natural Park of Cabo de Gata. And doing this without leaving home. A home in which you will feel how everything flows, how every corner is connected to the environment. Do you want to get to know it?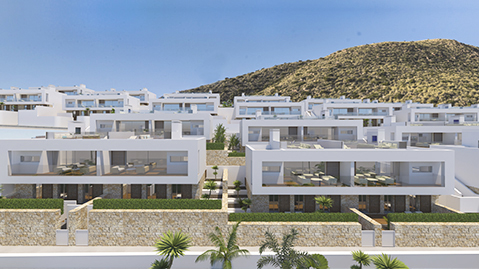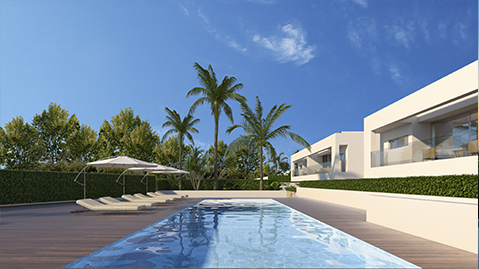 Houses adapted to the Technical Building Code CTE.
STRUCTURES,
WALLS AND SURFACE
FOUNDATIONS: Reinforced concrete slab.
STRUCTURE: Reinforced concrete executed according to EHE-08 and NCSE-02 standards.
FACADE: Façade composed of ½ foot factory bricks with cement mortar plastering and smooth exterior stone paint, air chamber with 50 mm rock wool and internal lining with double plasterboard 13 + 13 mm. Interior plastic paint finishing.
PARTITION: Partitioning between houses formed by ½ foot perforated factory bricks and rock wool and double plasterboard 13 + 13 mm on both sides.
Internal partition walls of double housing plasterboard 13 + 13 mm on both sides and interior rock wool 50 mm.
Interior flooring of the general house by top quality flooring. Top quality kitchen flooring. Top quality bathroom flooring. Top quality flooring and artificial garden on the solarium area. Top quality bathroom walls.
Suspended toilet, washbasin furniture, suspended bidet of the " ROCA " brand. Shower tray model VITA by "GALA". Drako faucet model from "RAMÓN SOLER".
UPPER FLOOR BATHROOM
Washbasin with top quality materials. Top quality toilet.
MAIN BATHROOM
Washbasin with top quality materials. Top quality toilet and bidet. Top quality shower tray. Top quality faucets.
SECONDARY BATH
Washbasin with top quality materials. Top quality toilet. Top quality shower tray. Top quality faucets.
Top quality mechanisms in white colour.
Exterior carpentry made of wood-coloured lacquered aluminium profiles, sliding aluminium blinds in the same colour.
CLIMALIT 5+9+5 glass (19 mm.)
Smooth white lacquered folding doors and chrome fittings. Sliding doors lacquered in white. Wardrobe front with smooth leaves in white lacquered wood. Reinforced front door.
Optional metal sheet fireplace in the living room. Covered barbecue.
AIR CONDITIONING:
pre-installation of air conditioning with air ducts by means of "Climaver plus" and supply and return grilles in anodised aluminium. Machine not included.
DHW:
Domestic hot water by means of an individual heat pump (aerothermal) (CTE), with storage tank of 110 litres.
TELECOMMUNICATIONS:
Video intercom.
Telephone and TV connections in living room, kitchen and all bedrooms.
Coating of garden walls and walls using natural slate cladding.
2 cm thick floating rectified stoneware flooring, imitation IPE wood, and artificial lawn in solarium area.
Communal motorised garage door in lacquered galvanised steel with remote control.
NOTe: The project management will be able to modify or substitute, for justified reasons, the displayed characteristics by analogous or similar ones.